---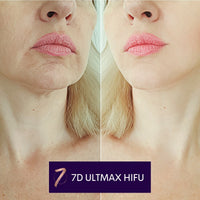 Sale
*UPGRADE offer to 7D HIFU Ultmax today only offer - Only $199
The Deal:

Full Face & Neck Treatment *Upgrade* (recommended) | from 5D to 7D HIFU face lifting - Only $199 (Value $4,099)

TREATMENT INCLUDES Bonus Free Eye Lift Treatment  (Total Value  $4,099)
What Can You Treat?

Engineered with endless capabilities offering endless combinations of treatment regimens for the face and body, the ULTMAX 7D HIFU is suitable for patients with the following concerns:

• LOOSE & SAGGING SKIN
• SKIN FOLDS
• FINE LINES & WRINKLES
• SIGNS OF AGING
• DECREASE IN SKIN ELASTICITY
• V-LINE CONTOURING
• SMALL POCKETS OF FAT LIKE BRA LINES OR UPPER ARMS
Benefits:
• Non-Surgical Face or Neck lift without invasive surgery, bruising, scars or pain
• Double Chin lifts and tightens for a more pleasing profile
• No Downtime just great results permanently lifting like never before  
• Can be completed in a lunch break and walk-in walk out looking great
• Only one to two treatments needed and we use the safest and latest technology for best results
• Great for jaw definition, getting rid of double chins and plumping cheekbones and for eyes lifted and opened.
• Safe, Non-Surgical procedure, lifting and tightening the skin 
The treatment is using Hi-Intensity Focused Ultrasound (HIFU) otherwise known as Ultherapy or Ultraformer III, which is very safe and we can even treat the upper eyelids. Clients describe the feeling as comfortable with a mild tingling/heat sensation. The best thing is that the results are permanent.
Am I a Candidate?

The 7D ULTMAX HIFU (also known as The ULTRAFORMER III 7D HIFU treatment), treats fine lines, wrinkles, or hyperpigmentation on the face. It is also suitable for those who desire more curvaceous hip lines and slimmer contours. Talk to your Treatment Specialist if the 7D ULTMAX HIFU is the solution you seek!

All 7D ULTMAX Face Lifting treatments are carried out by our in clinic expert Dermal Therapist - Eve Garrett 
Fine Print
• Limit of 2 vouchers per person
• All past and new clients welcome
• Not suitable for pregnant or breastfeeding women
• Not suitable for those with a current or previous history of skin cancer (epithelioma or melanoma) or any benign/malignant tumours
• Not suitable if you have impaired motor functions (paralysis of facial muscles)
• Not suitable for those with metallic materials or gold implants in bone/tissue area that is being treated
• Not suitable for those with infectious skin diseases
• Not suitable for those suffering from eczema in the area of treatment
• Not suitable for those who suffer from diabetes, epilepsy, or those with a pacemaker
• Any concerns and skin conditions should be discussed over the phone before purchase
• Multiple sessions are required in some cases, however, most of the time only 1 session is sufficient
• All sessions/visits are valid for the same person and can be given as a gift
• Visits are non-transferable to others
• Late appointments will shorten appointment times, and treatment may be forfeited if over 10 minutes late. We try to accommodate where possible but need to enforce this in order to provide a professional treatment experience for our clients.
• 24-hour cancellation policy applies or voucher will be forfeited
• Advanced Face & Body Beauty Therapy policies apply and can be found at https://www.advancedfaceandbody.com.au/cancellationsrefunds
Deal Terms:

6 months expiry from date of purchase - the cancellation, refund, and late policy applies to all bookings find out more at https://www.advancedfaceandbody.com.au/cancellationsrefunds

How to Redeem:

• Offer valid for 6 months after purchase
• Email to book: info@advancedfaceandbody.com.au
• Phone to book: 02 9386 9273
• Book online: https://www.makeonlinebooking.com/location/83648/beauty-appointment

About Advanced Face and Body

Advanced Face and Body delivers Cryolipolysis Fat Freezing, HIFU Face Lifting, LipoGen HIFU Body Sculpting, RF, EMS Muscle Training & Fat Burning, and Fraceletated RF Skin Rejuvenation for the face and body.

Treatments are performed within our comfortable CovidSAFE location in Bondi Junction and we also offer a range of services that target nutrition, weight management, anti-aging and general wellness.